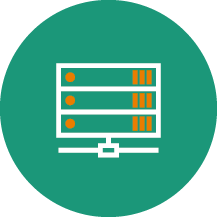 ITO
Infrastructure
Nonstop service that seeks stability and security of the environments. Strategic partnerships, multidisciplinary knowledge and consultancy in information security guarantee full operation of your infrastructure.
DATACENTER
SAP Infrastructure and SAP Basis for 30 SAP environments, with 90 TB of data supported.
ADMINISTRATION OF INFRASTRUCTURE
DATACENTERS TIER 3
500 servers, 150 databases, middleware and 3,000 email accounts.
USER SUPPORT
2,200 workstations.
GRANTING AND WITHDRAWAL OF ACCESS
INFORMATION SECURITY
DIFFERENTIALS
Infrastructure Operation and Projects based on the market frameworks (ITIL, COBIT, PMI) with continuous improvement of processes.
Strategic partnerships and knowledge that allow the best solution to the needs of each client.
Consultancy in  Information Security with determination of maturity in Governance of Information Security (ISO, Security Standards and Policies).