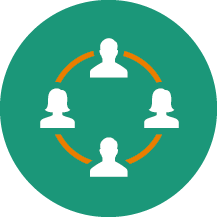 BPO
Human Resources
Contributes toward the operations of your Human Resources department, enabling gains with our technical support in the management of contracts and constant updating of processes according to the Legislation and Collective Bargaining Agreements.
BENEFITS AND QUALITY OF LIFE
27,000 Lives with Health and Dental Plan.
36,000 People with Life Insurance (Group and Personal Accidents).
Transport, Meal and Food Vouchers.
Occupational Safety & Medicine.
Quality of Life.
Complementary Social Security.
PAYROLL
Payroll and Charges of 50 companies, with issuance of 3,000 forms.
Events: admission, vacations, rescission, leaves, time cards, annual obligations of 24,000 people.
CND – Debt Clearance Certificate (social security).
DIFFERENTIALS
7,600 calls/month answered for active and former employees.
Processing of International Payrolls (LATAM & Africa).
Preparation for implementation of eSocial, participating as one of the pilot companies with the Internal Revenue.