Foundation
Continuous encouragement and recycling of human capital
Behind our business is knowledge and motivation of people
INTEGRATED DEVELOPMENT SYSTEM
MERITOCRACY
360º Assessment up to the level of Assistants.
Individual Development Goals and Plan for all professionals.
Succession for all key positions.
TRAINING
Average of 70 hours of training per professional (last 3 years).
E-learning technical, managerial & behavioral.
INCENTIVE & HEALTH
Career Paths for guidance of personnel.
Balance Program for the well-being of the professionals.
PROFILE
Professionals with higher education: 74%
Average company time: 4.6 years
Average age: 32 years
RESULTS IN FAVOR OF ORGANIZATIONAL HEALTH
HAY GROUP
70%
favorability index in the Hay Group Climate Survey of 2017.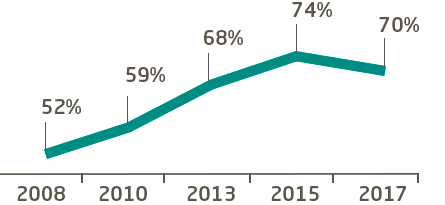 MCKINSEY
81% Organizational Health Index* in Survey conducted by McKinsey.
*VEXIA has a distinctive organizational health profile.